Nuclear Medicine Exam Prep
Find out when you book
What is Nuclear Medicine?
Nuclear Medicine is a branch of medical imaging that uses small amounts of radioactive material called radiopharmaceuticals or radiotracers to help diagnose or treat a variety of diseases, including many types of cancers and heart disease.
Nuclear Medicine imaging can assess the structure and function of an organ, bone, system or tissue rather than just examine its appearance. This allows radiologists to identify a disease in the early stages, before it is apparent in other diagnostic tests.
The radiotracer is injected into a vein and it accumulates in the organ or area of your body being examined, where it gives off energy in the form of gamma rays.
This energy is detected by a device called a gamma camera. This device works together with a computer to measure the amount of radiotracer absorbed by your body and to produce special pictures.
Nuclear medicine imaging scans are performed to:
Analyze kidney function
Visualize heart blood flow and function (such as a myocardial perfusion scan)
Evaluate bones for fractures, infection, arthritis and tumours
Determine the presence or spread of cancer in various parts of the body
Identify bleeding into the bowel
Locate the presence of infection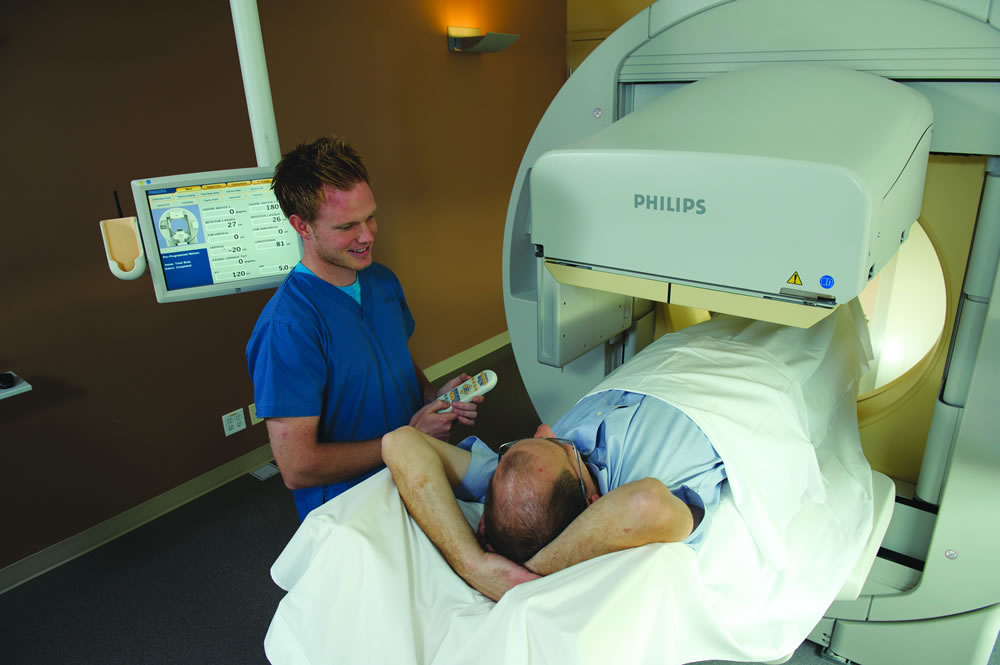 What to expect
When you arrive for your exam, you may be asked to change into a gown.
One of our technologists will help you get into the right position on the examination table.
A nurse or technologist will insert an intravenous (IV) line to inject the radiotracer.
It can take anywhere from several seconds to two days for the radiotracer to travel through your body and accumulate in the organ or area being studied. As a result, imaging may be done immediately, a few hours later, or even two days after you have received the radioactive material.
When it is time for the imaging to begin, the camera or scanner will take a series of images. The camera may rotate around you or it may stay in one position and you will be asked to change positions in between images.
The length of time for nuclear medicine procedures varies depending on the type of exam.
An MIC radiologist will review your images and provide a complete report to your healthcare provider, usually within 24 hours.