Pain Management Exam Prep
Find out when you book
What is pain management?
At MIC we provide image guided (fluoroscopy and ultrasound) pain management injections to treat inflammatory joint, soft tissue or other chronic pain conditions.
During these procedures, one of our radiologists uses fluoroscopic or ultrasound guidance to inject a fine needle into the affected area. The needle is used to deliver an anesthetic, a small quantity of dye and an anti-inflammatory agent, the most common being a corticosteroid to decrease inflammation and reduce pain.
Pain management procedures can be helpful for a variety of conditions, including arthritis and inflammation around a tendon (tenosynovitis).
These procedures are very low risk and often provide pain relief right away. The local anesthetic numbs the joint so if the joint is the source of pain, you should experience significant pain relief within 15 minutes of the injection; this may last for a few hours. Some patients experience prolonged pain relief from the injection of the corticosteroid which may last over 6 months.
Common treatment areas include:
Hips
Knees
Shoulders
Elbows
Lumbar spine
Ankles, wrists and thumbs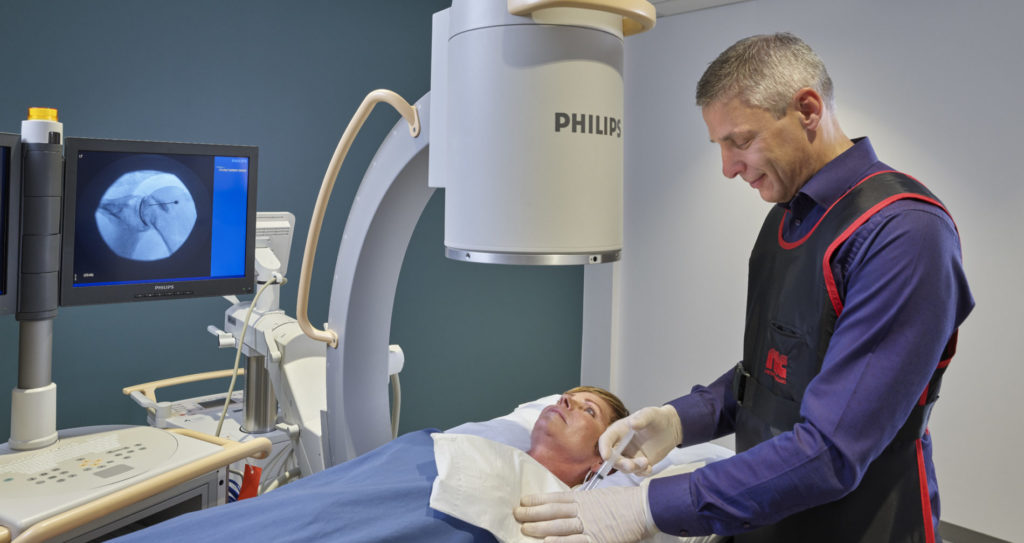 What to expect
Please take a few minutes to review the exam information specific to the procedure your practitioner has ordered.
Depending on the type of procedure you are having, a technologist will position you on the exam bed.
One of MIC's radiologists will use fluoroscopic or ultrasound guidance to inject a fine needle and administer the local anesthetic and pain medication. You will find more specific information under the procedure you are having.
MIC offers the following pain management procedures: