Ultrasound Exam Prep
Find out when you book
What is an ultrasound?
Ultrasound imaging or sonography is a safe and painless procedure that uses high-frequency sound waves to produce pictures of the inside of your body.
The exam involves the use of a small transducer or probe and warm, water-based gel placed directly on the skin. High-frequency sound waves are transmitted from the probe through the gel into the body. The transducer collects the sounds that bounce back and a computer then uses those sound waves to create an image.
General ultrasounds are a very useful way of examining many of the body's internal organs such as the heart and blood vessels, liver, gallbladder, spleen, pancreas, kidneys, bladder, uterus and ovaries. Since these images are captured in real-time, they can show the structure and movement of the body's internal organs, as well as blood flowing through blood vessels.
Obstetrical ultrasounds are used to monitor the growth and well-being of your fetus (unborn baby).
Breast ultrasounds assess the breast for abnormalities and are often used when you, or your practitioner, feel a lump or you are having pain and tenderness that is not usual for you, or a mammogram shows something that the radiologist wants to see more clearly.
Musculoskeletal (MSK) ultrasounds are used to assess muscles, tendons, ligaments, joints, and soft tissues throughout the body. Because of its dynamic nature, it can be a very effective way to assess injury and identify the source of pain with immediate feedback from the patient. At MIC, all MSK ultrasounds are performed by highly trained technologists and radiologists.
Ultrasound is also used to guide procedures such as needle biopsies, in which cells are extracted for laboratory testing.
All of these types of ultrasound exams can help your practitioner to monitor, diagnose and treat medical conditions.
Ultrasound exams provide a clear picture of soft tissues that don't show up well on x-ray images.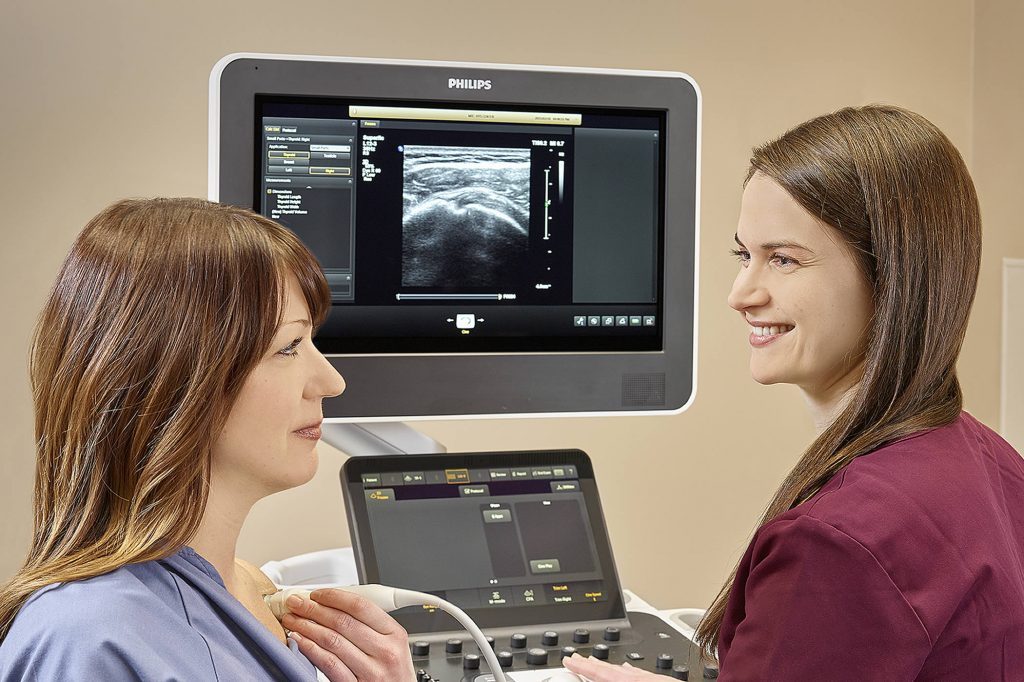 What to expect
Most ultrasound examinations are simple, painless and quick.
Very few ultrasound examinations require any advance preparation. By clicking on exam preparation, you will be able to check whether you need to do anything before you arrive at the clinic.
Depending on the type of ultrasound examination your practitioner has ordered, you may be asked to change into a gown. You will then be positioned on the examination table.
The sonographer or radiologist will apply some warm, water-based gel on your skin and place the transducer firmly against your body, moving it back and forth until the desired images are captured.
The radiologist will provide a complete report to your practitioner, usually within 24 hours.